About ISOM
ISOM will discuss the current status of optical memory system design and applications, together with new developments in the areas of media, lasers, optical system, basic theory including computer simulation, and a range of future technologies. From ISOM'09, the scope of the symposium was extended to accept a wide range of researches and technologies on optical memory systems. From ISOM'10, the field of the symposium was newly introduced to discuss various technologies related to optical memory systems and storage systems.
Topics to be covered in this symposium include, but are not restricted to the followings:
Scope from a Technical Standpoint
Basic Theory and Physical Optics
Media and Material Science
Drive Technologies and Signal Processing
Components and Nano Fabrication
Testing Methods and Devices
Optical Memory Systems
High-Density Recording
Medical and Bio Optical Technologies

New World - Other Future Science and Technology available to

Information Strage
Fields from a Practical Standpoint
A.Information System B.Optical Technology C.Memory Technology
History
The first Optical Memory Symposium (SOM) was held in November, 1985, supported by the Japan Society of Applied Physics (JSAP), the Magnetics Society of Japan (MSJ), and the Optoelectronic Industry and Technology Development Association (OITDA). ISOM was launched in 1987 to provide a forum for researchers both in Japan and abroad, in cooperation with the Institute of Electrical and Electronics Engineers (IEEE), the Optical Society of America (OSA), the International Society for Optical Engineering (SPIE) and so on.
Until 1994, SOM and ISOM were convened on alternating years but since 1995 ISOM has been held every year. Sometimes it has been held with other conferences, once for three years with the topical meeting on Optical Data Storage (ODS), also once with the Magneto-Optical Recording International Symposium (MORIS). ISOM'07 is the 17th.
(Details)
| | |
| --- | --- |
| December, 1985 | SOM'85 at Toranomon Pastoral (Tokyo) |
| December, 1986 | SOM'86 at Toranomon Pastoral (Tokyo) |
| September, 1987 | ISOM'87 at Sunshine Prince Hotel (Tokyo) |
| September, 1988 | SOM'88 Casals Hall (Tokyo) |
| September, 1989 | ISOM'89 International Conference Center Kobe (Hyogo) |
| July, 1990 | SOM'90 at Makuhari Messe (Chiba) |
| October, 1991 | ISOM'91 City Educational and Cultural Center, Sapporo (Hokkaido) |
| July, 1992 | SOM'92 at Pacifico Yokohama (Kanagawa) |
| July, 1993 | ISOM/ODS'93 Maui Island (Hawaii) |
| July, 1994 | SOM'94 International conference hall of Waseda University (Tokyo) |
| August, 1995 | ISOM'95 City Cultural Hall, Kanazawa (Ishikawa) |
| July, 1996 | ISOM/ODS'96 Maui Island (Hawaii) |
| October, 1997 | MORIS/ISOM'97 Yamagata International Convention Center (Yamagata) |
| October, 1998 | ISOM'98 Auditorium AIST Tsukuba Research Center (Ibaraki) |
| July, 1999 | ISOM/ODS'99 Kauai Island (Hawaii) |
| September, 2000 | ISOM2000 Chitose Institute of Science and Technology (Hokkaido) |
| September, 2000 | ISOM2000 Satellite Symposium Kyongju (Korea) |
| October, 2001 | ISOM'01 The Grand Hotel (Taipei) |
| November, 2001 | ISOM'01 Satellite Symposium Toyama (Toyama) |
| July, 2002 | ISOM/ODS'02 Hawaii Island (Hawaii) |
| November, 2003 | ISOM'03 Nara-Ken New Public Hall (Nara) |
| October, 2004 | ISOM'04 Jeju (Korea) |
| July, 2005 | ISOM/ODS'05 Waikiki, Honolulu (Hawaii) |
| October, 2006 | ISOM'06 Takamatsu (Kagawa) |
| October, 2007 | ISOM'07 Pan Pacific Hotel (Singapore) |
| July, 2008 | ISOM/ODS'08 Hilton Waikoloa Village, Waikoloa (Hawaii) |
| October, 2009 | ISOM'09 Nagasaki (Nagasaki) |
| October, 2010 | ISOM'10 Parkview Hotel, Hualien (Taiwan) |
| July, 2011 | ISOM/ODS'11 Lihue, Kauai (Hawaii) |
| October,2012 | ISOM/ODS'12 Miraikan(Tokyo) |
| August, 2013 | ISOM'13 Yonsei University(Korea) |
| October, 2014 | ISOM'14 Lakeshore Hotel(Taiwan) |
| October, 2015 | ISOM'15 Toyama International Conference Center(Toyama) |
| October, 2016 | ISOM'16 Kyoto Research Park(Kyoto) |
Numbers of participants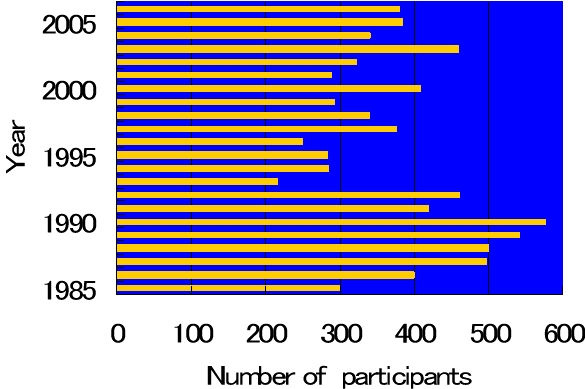 JJAP publication
ISOM Symposium papers of each ISOM were published on Supplements (ISOM'87, ISOM'89) and Special Issues (ISOM'91-ISOM/ODS'05) of the Japanese Journal of Applied Physics (JJAP) in addition to the technical digest available at the symposium. The authors who presented papers at the symposium were allowed and strongly recommended to submit their papers for publications on the JJAP Special Issue for ISOM. Submitted manuscripts were referred as original papers according to JJAP special standards. JJAP Special Issues were distributed to approximately 3,200 readers worldwide.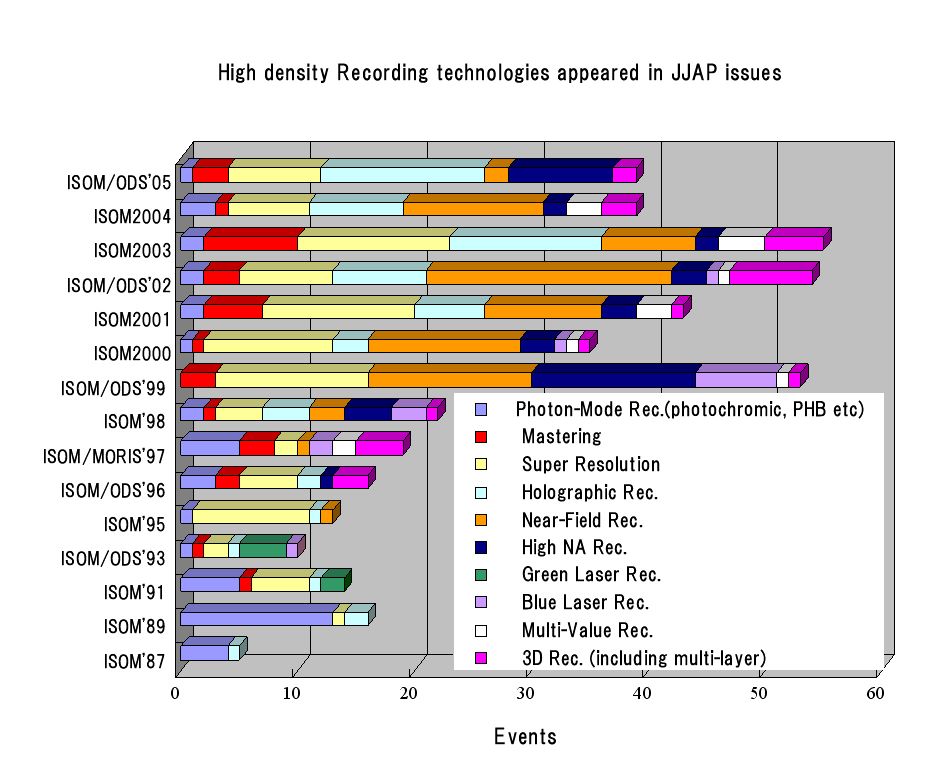 ISOM in Asia
The ISOM committees approved a satellite meeting since 1998. The first satellite meeting was the International Symposium on Advanced Optical Storage (ISAOS'98) which was held at Taipei, Taiwan in 1998. It showed the vital activities about the optical memory technologies and industries in Asia. The satellite meeting of ISOM2000 was held at Seoul, Korea.
The ISOM committees are planning to hold ISOM symposiums periodically in three areas, like Japan, Asian countries other than Japan, and ISOM/ODS joint symposium in Hawaii.